Stained Glass Series Medals
Medals with Stained Glass Panels
We supply, engrave & deliver Medals and Medallions Australia wide.
Unique colourful medals add sparkle to any presentation
The metal stained glass medal series feature bold and bright colours.  They will be an eye-catching addition to any trophy collection.  These medals are unique in the fact that they are colourful, as most medals are 1 or 2 toned.  They are a larger size medal at 65mm and a neck ribbon in your choice of colour is included in the price.  The back of the medals can be individually engraved with your special text, and medals boxes are available for purchase if required.  Various sports are represented in this range as well as academic, music and dance medals. Sydney Awards and Trophies are experts in the trophy industry.  We choose medal ranges that are visually appealing and represent the sport or activity well.  Our prices are very competitive and you can be guaranteed of our professional service.
Luminescent colours have medieval meaning
In medieval times, stained glass windows told of biblical events and those who could not afford a Bible or who were illiterate, could view the windows to understand the events and lessons in the Bible.  Today we view them as beautiful works of detailed art, an art form that is still practised today. It is interesting to note that certain colours used in stained glass windows of churches had significant meaning.  Green represented the grass, nature and growth.  Not surprisingly, blue depicted the sky with heaven, hope and sincerity.  Red, the blood of Christ, shows strong emotions of love and hate, and violet the emotions of love, truth, passion and suffering. Perhaps we can relate these meanings to sports and activities and the colours in the medals.  Either way, the stained glass medals will be cherished by your sport or academic champions.
RIBBON COLOURS AVAILABLE
Click to see our full range of neck ribbons for medals.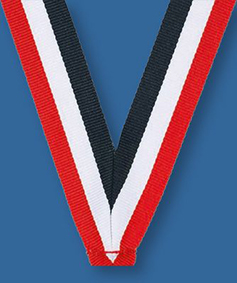 Australia wide delivery for Medals from Sydney Awards & Trophies.