Bush Walking and Trail Running for Fitness and Well Being
Bush Walking and Trail Running are two very worthwhile activities. It is well documented that a good walk or jog in natural surroundings is beneficial for psychological and physical health.
In this blog you will learn how to safely walk or run trails, by GPS, navigating your directions using a free App and a Smartphone.
It is assumed you know the correct gear for your walking and running activity. Safety should be the first priority when heading off for a stroll or run in the bush. National Parks and Wildlife in NSW, Australia have information on their site of a sensible checklist for you. The Packing Checklist is below. Click through and download/print the list.
What you wear, your footwear, and what you take in your backpack is also very important. Having friends with you on the trek and also informing family or a friend where you are going and expected return, is a common sense necessity. Note also that NP&WS recommend a GPS facility as part of your essential packing.
Step1:  Download "Map My Walk" to a PC or Laptop.
Search "Map My Walk" on PC or Laptop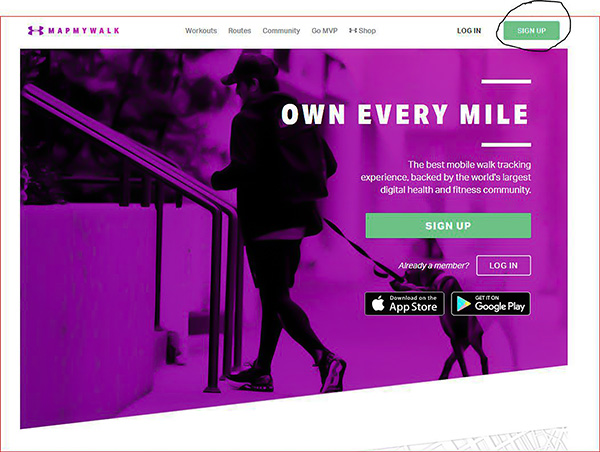 2. Click the SIGN UP button circled above and fill in the details on the new page. I have recommended, as a start up, to have your own Username and Password rather than using your Facebook Account. If you wish to change this option you can do this later.
 3. The permissions page is the next page that opens. In the first instance you do need to understand and accept the below.
4. The Dashboard Page opens
5. Scroll Down to the Bottom of the Dashboard Page and Click Through to find "Account Settings".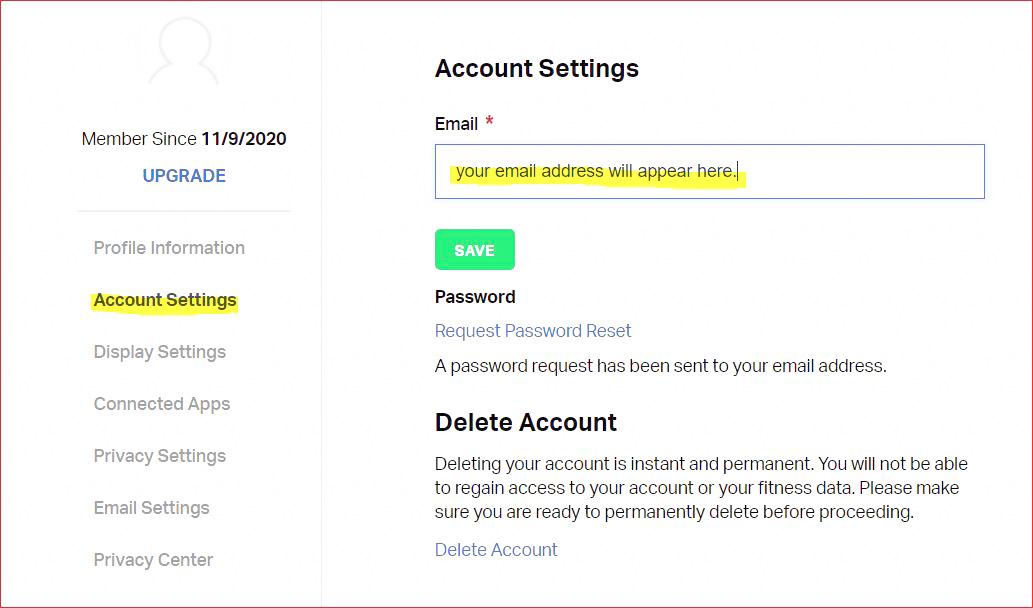 Profile Information: Name, Height, Weight, Gender, City Address. Click Save.
Account Settings: Set the email address that you will be using and your Password. Click Save.
Display Settings: Metric or Imperial. Click Save
Connected Apps: You can connect to your Garmin connect, Withings, My Fitness Pal. Fitbit, Suunto and Samsung Health. So if you map your walk or run or any activity the details will be sent to Map My Walk. If you don't have a mapping watch viz Garmin you will map the walk with your Map My Walk App on your iPhone or Smartphone, which will be explained shortly.
Privacy Settings: Click through and choose your profile, workouts and routes settings. I suggest, to start, that you keep your profile with friends or Private only. Your workouts and routes can be public but you may need to be careful with privacy when you have workouts and routes that are mapped coming from your house. Perhaps keep these ones, or other sensitive areas for Friends who know you well, or keep them totally private. The routes, in particular, are very important so others can follow your safe directions on GPS on their mobile while on the trek or run. This can be a great community service whereby others can follow a route, off the beaten track real time GPS, and not get lost or take a wrong turn.
Email Settings: At the bottom check your Language setting. I recommend (a) Newsletters, (b) Emails of critical changes.
Privacy Centre: There are 7 aspects here you can familiarise yourself with on this page. An important one is the Contact Support click through.
Some click throughs, eg Contact Support, may take you to a page with the header being "Map My Fitness". This is normal so proceed with confidence.
Step 2. Now get the App "Map My Walk" downloaded onto your iPhone.
Search for "Download Map My Walk" on your iPhone or Smart Phone. You will get a few options on the 1st response page. Seek out and download from either the App Store for iPhone or Google Play for Android.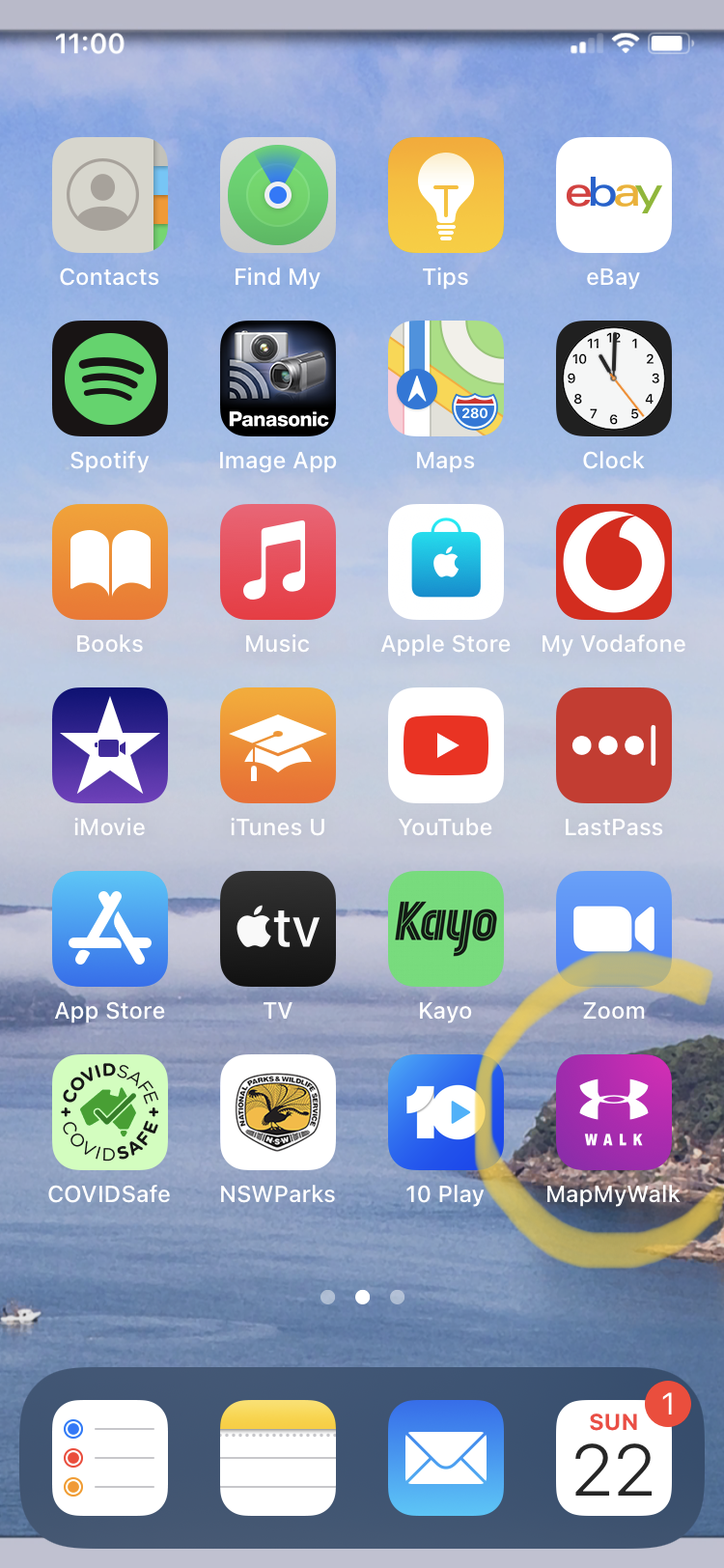 Note that you will see advertisements in the free App.
If you wish to remove the Ads and get more features you can always upgrade to Premium.
I will now continue with the set up which is very easy on an iPhone. What has been described above is consistent for both platforms in the mobile phone space (Apple, Android), but for now I will proceed for the iPhone only. You will see 3 dots in the lower right of your iPhone. Touch the 3 dots to see 15 exciting avenues for you to explore, as at 21/11/2020. If you are serious about making your mapping and fitness a part of you everyday living you should have a look through. If you are just here for the mapping it will be extra easy.
Upgrade to Premium
Profile
Log Workout
Workout Routines
Routes
Apps & Devices (Syncing)
Gear Tracker
Friends
Live Tracking
Nutrition
Goals
Training Plans
Settings
Privacy Centre
Help
Not all of the above aspects will be covered in this blog
1. Upgrade to Premium will give you an ad free experience together with many features including live tracking. Live tracking enables you to sent the walk or run to a contact while in progress. This is a great safety feature. There is a 14 day trial at the stage of writing this passage. The cost in Australia is  $44 per year ($3.67 per month). I used the free version before upgrading.
2. Profile stores all of your workouts viz. Distance, Time, Workout number and Calories. It also makes a route that you can share for others to follow.
4. Routes stores all the routes that you have made. You should name the route so you will will be able to execute a search on the PC or Laptop.
Note that in the My Routes screenshot that I have named the routes. eg Kincumber to Green Point. This can be done in App on you mobile phone or later on your PC/Laptop.
The Next tab at the top is the "Bookmarked" tab. To bookmark any walk from My Routes click on the walk to open in a new page and click on the 5 pointed star at the top right of your phone screen. You will notice that it turns light blue. By doing this you will have downloaded routes to your Smartphone from your own routes or from the list just to the right called "Nearby". Have a look in "Nearby" to see what is suggested from the location that you happen to be in. If you like the look of the route bookmark it.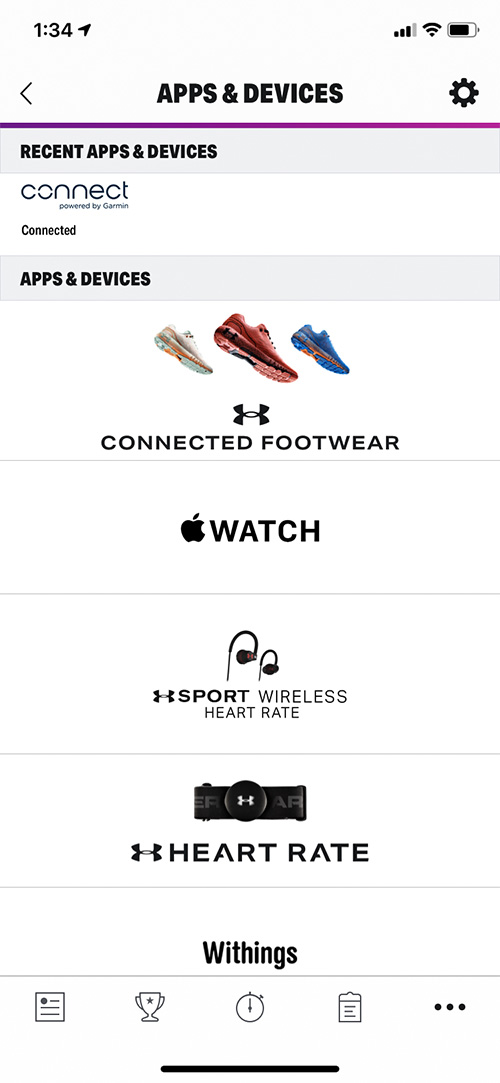 5. Apps & Devices. This is the section where you will be able to connect your Map My Walk App with other applications and devices. You will find Garmin Connect, Suunto  and other worthwhile connections here. Some of the smart watches will connect with wrist pulse rate date during your trek or run. The GPS watches will also check the GPS trail you have taken and you are able to compare both trails ie from Garmin and Map My Walk, for accuracy or glitches in GPS reception. Ultimately I would advice that however you have recorded the route (eg by phone or watch) that you log it as a workout with Map My Walk. You will then be able to to access the route and modify or add waypoints to your route for next time. If you make your route public it is available in the nearby sector as described above in the "Routes" clickthrough. If you have named your walk instead of leaving the default description name you will always be able to find it on your PC and "Bookmark" it. Then it will show up in the "Bookmarked" tab on your Smartphone.