Two Tone Series
We supply, engrave & deliver Medals Australia wide. 52mm Two Tone Medals $4.40. Price includes ribbon. Click to see our full range of Neck Ribbons
Beautifully designed achiever medals
The economical 52mm Two Tone medals feature the symbolic wreath and the sport or academic achievement.  The figures are raised and combined with the tones, gives the medal a 3D look and feel.  They look classy and are great value for money.
The back of the medal has a 32 x 32mm engrave area.  Alternatively, a metal plate is placed in this area which can be printed, for example, with a logo or school crest, and text.  The plate can be printed in colour to add that special touch and personalisation.
The gymnastics, swimming and track medals come in gold, silver and bronze.  All other represented sports come in gold only.  However places can be engraved or printed on the back of all medals if required.  Another option for places are the glittering Gold, Silver and Bronze neck ribbons. All medals come with a neck ribbon which can be matched with the colours of your club or school.
Reward accomplishments with symbolic medal
Medals have been around for many centuries.  Back in the times of Alexander the Great, honorary battle awards in the form of buttons or medals were die-struck in gold.  Roman imperial medallions depicted heads of gods, animals and other symbolic designs.
Over the centuries medals commemorating victories, celebrations, persons or event were made in a range of metals such as gold, silver-gilt, silver, bronze and lead.  Scholars received medals in recognition of their work. Medals were often given as gifts and used as a form of jewellery.
Nowadays medals are a symbol of recognition.  They may be given for recognition of service, sporting or academic achievements, excellence in a particular field, or a notable event.  No matter what the reason, medals are kept and treasured as a reminder of a special achievement.
RIBBON COLOURS AVAILABLE
Click to see our full range of neck ribbons for medals.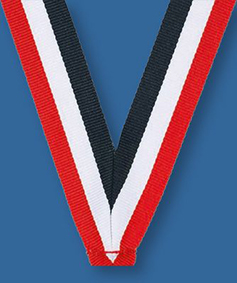 Australia wide delivery for Medals and Medallions from Sydney Awards & Trophies